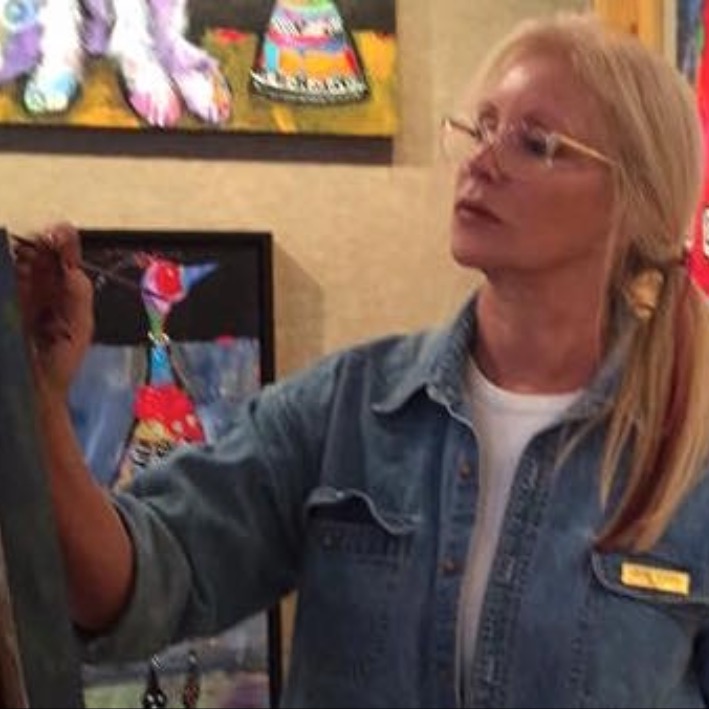 JENNY FOSTER'S style is primitive and contemporary, embellished with joyful colors and abstract forms and symbols. Her constant goal is to create pieces that speak to the heart immediately—to create personality and expression while keeping them simple, joyful, bold and refreshing.

Her work is a celebration of colors, creatures and the spirit of life.

"People smile when they see my work. It is simply meant to bring a bit of joy to the observer's life—a kind of childlike happiness we all once knew. If I can evoke that happiness with my work, I feel I have succeeded."

Jenny is a native Arizonan, and studied Fine Art at Arizona State University. She has been happily painting since she was 7 years old. The family dog was often found with purple spots, and her parents' names were Jack and Jill.
And, yes, they lived on a hill!
Jenny vows to never grow up.

"You have the ability to combine elegance with whimsical in your creations. That is a rare gift indeed.
Artists usually have one aspect of these talents, and just elegance alone, is difficult to attain. Even your most sophisticated
customers appreciate your unusual work because the whimsical portion must be done in a very subtle way.
We all still smile at the 'sophisticated frivolity' of a Foster creation."
Sydney Ayers—collector